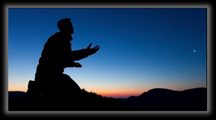 How has God answered your prayers? 
Below is a collection of a few true stories from the past illustrating how your sincere prayers and ours have not only been heard, but answered. We have come to believe "...that which will be the most effectual is the testimony of our own experience" The Desire of Ages, p. 347, therefore we are sharing with you a few short stories of how God has directly answered our prayers or just plain guided our lives. It is our prayer that these stories will be a blessing to you and that you will be encouraged to walk closely with God.  "Taste and see that the Lord is good." Psalms 34:8
If you are not currently doing so we want to encourage you to start keeping a list of some of the outstanding things God does for and through you. Even if you never write a book, you need to keep track of these thing to help you remember how God has led and dealt with you. And in the process your own faith will grow and you will have something to share with others. None of us have anything to fear unless we forget how our God has lead us and taught us in the past.
We wish we had kept a more complete record of the wonderful ways the Lord has lead and provided for us, but we pray that God will bless all who read these few experiences from our lives.  (The hope and dream of the Editor of BibleTimelines.com is that this blog will not be just about our experiences.  Please share your own stories with all of us.)  If you are blessed by what you read here, please share these stories and especially your own testimony with someone else. You will be blessed by sharing, and others will be encouraged too.
We look forward to meeting you some day when all God's people are gathered home.
Agape! Maranatha! -Eddie and Dan
*** Send your true "answers to prayer" stories to: BibleTimelines.com.  Mention "BLOG" in your message and based on what is read, they will be placed here so that they too can become a blessing to others.  (If you would like to submit more than one, great!  They will be placed here as soon as possible.  Your email address is needed only if we need to contact you in regards to what you write below.  It is not saved by BibleTimelines.com.)
 ****  P.S.  Along with answers to prayer, random thoughts will be posted here as well.  These additional thoughts will be placed here to bless and encourage you.
---